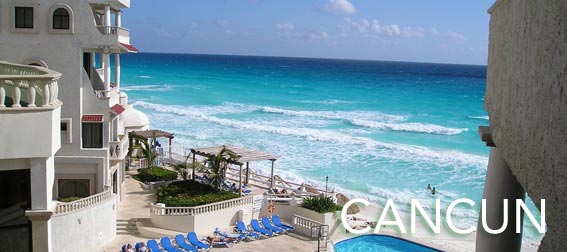 Cancun is the perfect sunny destination for spring break and graduation trips, but it also has plenty to offer families and any group who can appreciate the clear, blue waters of the Caribbean combined with Mexican culture and hospitality. Cancun has plenty to offer groups, from its luxurious resorts to the exciting jungle tours and some of the best scuba diving in the world. What kind of tour are you looking for? No matter the variety of your interests, Cancun has the perfect activities for any group.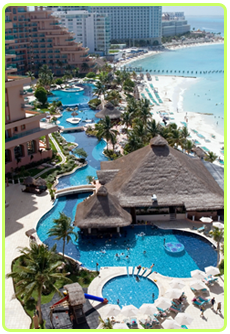 Nightlife
Nightlife – Cancun beaches are gorgeous, but nothing compares to its NIGHTS. These clubs are world-famous. Lights, music, and acrobatics combine for heart-pounding excitement. The best DJs in the world provide the backdrop for this amazing experience and for a night you'll never forget.
The City – Imagine more than five thousand people dancing to the rhythm of the most innovative entertainment you've ever experienced, set to both live music and the best DJs in the world. Live it in person, watch it on massive screens. The City is Cancun nightlife at its best. Find out more about The City

Coco Bongo – It's not just a nightclub, it's a live show. Sound, lights, music, and on-stage performances combine to create the experience of a lifetime in one of Cancun's hottest clubs. Its world-class DJs and Number One rated dance floor will keep you moving all night long. Find out more about Coco Bongo
Cancun Activities
Water Tours and Adventure – Cancun's beautiful Caribbean waters are perhaps the best reason to visit. Cancun offers swimming, beach activities, and other water sports. Plus, its waters are part of the Great Mayan Reef for some of the best snorkeling and diving in the world. Find out about Cancun Catamarans

Exploration on Land – Visit the beautiful and fascinating Mayan ruins near Cancun for amazing glimpses of ancient culture, history, and architecture.
Boutiques, Malls, and Flea Markets – In Cancun you'll enjoy a variety of eclectic shopping. You'll find high-end designers as well as classic brands. Shopping districts include restaurants, cafes, and cinemas. And a large, popular flea market immerses you in authentic Mexican culture.
Hotels & Food

Hotels and Resorts – You can find comfortable accommodations for any budget in Cancun, from luxurious, all-inclusive resorts to recognized hotel chains and more.
Food – Cancun has food from around the world. You can enjoy classic American cuisine as well as authentic Mexican and many other international fares. Find out more about The Hard Rock Café