Student groups in search of that ultimate Island escape need look no further than their own backyard…ok, maybe just a few thousand miles out into the blue Pacific! This most recent addition to the union joined in 1959, and is the only state composed entirely of islands – eight, to be precise: The Big Island of Hawaii, The Valley Isle of Maui, O'ahu, The Gathering Place, Moloka'i, The Friendly Isle, Lana'i, The Pineapple Isle, Ni'ihau, The Forbidden Isle and uninhabitable Kaho'olawe, The Target Isle. Hawaii is also the only state that is not geographically located in North America, grows coffee, is home to a royal palace, and does not have a single straight line in its state boundary. Because the islands are so far from mainland, life before native population is said to have arrived on the three W's: wind, waves and wings. It's not hard to recognize an underlying current of wildness that remains even in the most populated and commercial of cities, coursing through islanders' veins, rubbing off on mainland transplants and prevalent in Island culture, cuisine, rhythm, legend and lore. A humid tropical climate sees year-round temps hovering in the 80s –making Hawaii an ideal place to come, unpack and immerse yourself in the beautiful Island spirit of "Aloha!" Inhale; fragrant trade winds carry the whisper of tiny shells rolling across warm sands right up to your happy ears; the sea sings its eternal song of abundant welcome. Endless water sports and outdoor recreational activities, fantastic guided tours, incredible food, world-class accommodations and a thriving and vibrant arts and social scene await visitors to the warm beaches, breathtaking coastlines and stunningly diverse landscapes of Hawaii while that legendary Island tradition of warm hospitality sets the scene for the tropical getaway of a lifetime!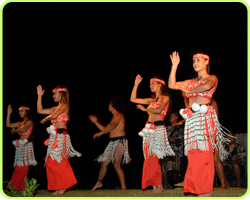 Hawaii Itineraries
Four Day Hawaiian Tour
A little history, a little culture and a whole lot of fun is in store for your group on this Four Day Hawaiian Tour.
Island Hopper Seven Day Tour
If you are going to go, you might as well see it all! This 7 day tour takes you to four of the Hawaiian islands!
Hawaii Attractions
Coming Soon!