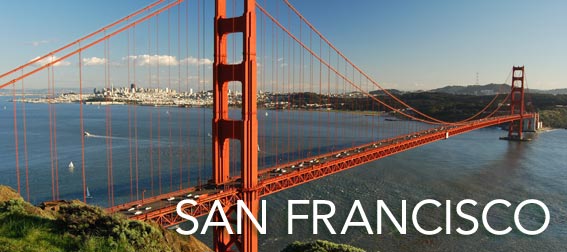 Let's start with things your travel group won't be doing in San Francisco: you won't be stalking the elusive Yeti or going on safari. But you can experience just about anything else under the California sun in the City by the Bay, because this beautiful North Coast destination serves up the very best of everything a visitor could dream of in a wonderfully diverse "big-bite"- sized venue. At a tidy 6 miles square, it's entirely possible to check off most of your group's fabulous and fun CA to-do-list with just a few days in this happy city of clement weather, stunningly surreal, morning-fogged Bay vistas, hills with names, watercolor streets in historic neighborhoods, crazy cool ethnic celebrations and the rhythmic whack-clang of cable car bells. Eat to your heart's content-San Francisco boasts more restaurants per capita than ANY other in the nation! Wander Fisherman's Wharf – grab a steamy-hot clam chowder sourdough bowl and check out the colonies of lumbering and vocal sea lions flopping about the docks. Get your coffee to go and catch your breath on a variety of pristine local beaches; marvel at a sweet San Francisco sunrise or the magic of city nightlights from Twin Peaks. Get lost in her colorful, culture-rich Chinatown-discover hidden treasure at every turn. Stalk the wild parrots of Telegraph Hill and delight in the stunning view from the top of snake-curvy Lombard Street; explore the world's only rainforest-aquarium-planetarium-museum and meet the resident bison herd at Golden Gate Park. Brave the mystery and myth surrounding the remote island fortress of Alcatraz; hop a ferry and see what you feel as you traverse the compounds that once housed the most notorious cold-blooded criminals of American History-is the island haunted by the lingering spirits of former inmates, or not?
San Francisco Itineraries
San Francisco and Sacramento Four Day Tour
Get a full tour of San Francisco's most famous sites plus a day trip to the state Capitol.
San Francisco Three Day Sampler
See a little of everything that this beautiful city has to offer on this three day tour.
San Francisco Attractions
Alcatraz
Infamous Bay Area Icon and truly eerie vision-to-behold come sunset, with various Fisherman's Wharf venues hawking "the best views of, " this intimidating dark fortress…
Aquarium of the Bay
For over fifteen years the San Francisco Bay Aquarium has mesmerized, fascinated and entertained more than 7,000,000 visitors to its glistening 50,000 square foot
Beaches
When your student travel group is all about hitting the must-sees and have-to-dos, what trip to the West Coast would be complete without some quality beach time? Bear in mind…
Big Sur
California condors tilt and wheel over twin-topped trees, fiercely clutching jagged cliffs and reaching for the fickle sun along this mythic strip of Central California Coastline…
Cable Car Museum
The iconic San Francisco cable car system has remained in operation more for nostalgic purpose than practicality since the 50s; just 17 miles of track….
California Academy of Sciences
Undeniably one of the largest, most innovative, eco-friendly , best-loved natural history museums in the world, the widely acclaimed California Academy of Natural Sciences…
Cannery Row
Situated on California's magnificent Central Coast, this historic waterfront district on Monterey Bay, awash with the gritty-salty maritime patina of rough and tumble days….
Chinatown
San Francisco's Chinatown bears the distinction of being the largest outside of Asia as well as the oldest in North America, and is consistently a top-draw to coastal culture hounds….
Exploratorium
The mission of The Exploratorium, brainchild of rogue physicist and educator Frank Oppenheimer, is to change the way the world learns through engaging…
Fisherman's Wharf
It's possible you could design your entire San Francisco getaway around a visit to this charming old fishing neighborhood, home of the Wharf's world-famous fleet….
Ghirardelli Square
Back in the '60s, the remaining 19th century Ghirardelli chocolate factory building was vacant and slated for imminent destruction after the chocolate…
Golden Gate Bridge
San Francisco, City by the Bay. Foghorns, seagulls, tugboats and cable cars, eclectic parades and crazy celebrations, sourdough chowder bowls….
Pier 39
Student groups on North Coast getaway won't want to miss out on Pier 39, located along the historic and breathtaking San Francisco waterfront…
Sunset Cruise
No San Francisco student travel adventure would be complete without a quintessential Sunset Cruise! Be sure to set aside a few hours one evening …